Meet Clockwork Goddess… the third book in the popular Lesbia series, the conclusion to the Lesbianning series which was previously running here. It's out now! It's all done! It's ready for your eyes! Hurray! I am so happy that this is finally out, Lesbia is one of my great passions and I hope you will enjoy reuniting with Ayla and Kira in this full length novel. :D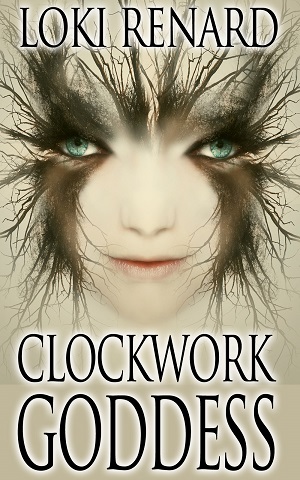 In a world where strict royal matriarchy rules, order is kept by way of public thrashings, and magic is ferreted out wherever it hides, it's difficult for a legendary witch like Ayla to get any peace.
All she wants is a quiet life in her little forest home. But with a warrior banging at her door demanding she take care of not one but two clever miscreants, one a herbalist who prefers nudity to clothing, the other a wily intellectual whose quiet demeanor belies a volatile temperament – not to mention a civil war about to break out, Ayla is going to have to put her plans on hold.
As a young queen bears down on the witch and her friends, Ayla finds herself trying to wrangle as disparate a group of misbehaved rebels as ever took up arms. Fortunately she has the famous warrior Kira by her side, helping to impart a little discipline as fate and forces beyond any of their control put every innocent in Lesbia in danger.
To save herself and those she loves, Ayla is forced to face a past she thought she'd left behind, discover a family she never knew – and to find the indomitable strength which exists inside a frail young mortal named Vix, who matters more than anyone imagines.