Sarge is the woman of my dreams, strong, powerful, talented, handsome with dark eyes that make me melt every time they catch me in their gaze. And now she has her fingertips at my entrance, swirling gently in the juices my body is making for her. I reach up and run my hands through her dark hair, looking into her face with what must be confusion because she smiles, kisses me lightly and tells me to relax.
"If this is too much we don't have to…"
"No!" I grab at her hand before she can move it away. "It's not too much. It's too little."
"Too little, huh?" Her cheek dimples. "What about this, is this too little?" She uses some of the moisture of my pussy to lubricate her fingertips as she slides her fingers up to my clit and slowly circles around it.
"Mmnn… Sarge…"
"You know my name isn't actually Sarge, right?" She keeps her fingers moving as she chides me gently.
"No… I mean…"
"My name is Blaine."
"Blaine, that's nice…" my words trail off into a moan as she finally makes direct contact with my clit and a jolt travels through my body as every muscle contracts with delight.
"You don't use it outside this room though," she warns. "Unless you want your butt warmed in front of whoever you used it in front of."
"Yes, ma'am, Sarge, sir," I say, throwing every honorific her way.
*****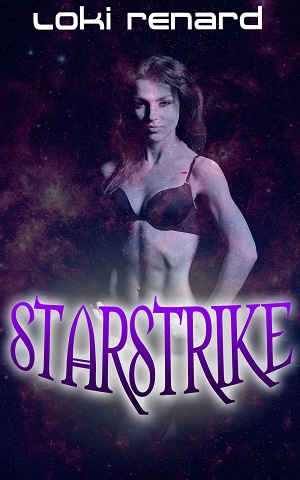 If you want a copy of Starstrike, but don't like to buy your lesbian erotica on the commercial powerhouse that is Amazon then I have news for you!
You can now get Starstrike on Smashwords! And soon enough, on those other ebook retailers like the people who made Nook, and the Apple store and other such places. I am not certain precisely when Starstrike will have that extended distribution, but I imagine in a week or so.
If you do want to get it on Smashwords you can get it in a format to suit any reading device, so that is nice.
Meanwhile on Amazon.com, there's already a very nice (and may I add, very well written) review from Sparrow!
Halo Ray has a terrible secret that keeps her separate and alone, just trying to maintain a low profile in order to stay alive. While intending to avoid drawing attention to herself in order to stay off the radar of those with authority, she battles an inner demon that makes it almost impossible for her to avoid making snarky remarks to superiors and undertaking self-destructive, reckless actions that put her squarely on the radar, over the knee, and ultimately on the run from even a love unlike any she has ever known. The surprise conclusion seems more like a beginning than an end to Halo Ray's story… at least I hope it is, because I loved this rebel with a cause.