*THANK YOU* for your support everyone. There has been some really nice feedback and I'm really happy that this installment of the series has bought you some pleasure. 
As promised the next, and indeed, final book in the Rigel series is now finished and available!
You'll notice that there has been a title change. I promise that not only does this book have a proper ending but that it is also not anywhere near as depressing as the title might imply.
So we're ready for the blurb now, right? Yes? I shall begin the blurbling now: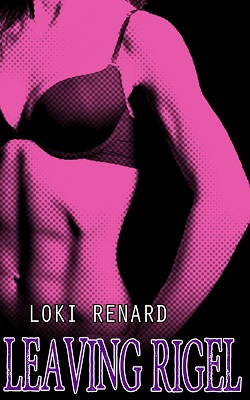 Hearts and bottoms are on the line!
In the aftermath of the charismatic albeit unabashedly promiscuous Rigel's disastrous attempt at a proposal, both Rigel and her ex-girlfriend Sadie are left emotionally devastated and acting out in their own ways.
Meanwhile, gentle dyke Tank seems to be getting called off the romance bench by Sadie's best friend, Kate, who is far too young for her – and far too straight, for that matter.
Is Kate really interested in Tank romantically? And what about Rigel, who wastes no time declaring her own undying attraction for Tank too?
Whilst Tank tries to navigate her way through that romantic minefield, she has Sadie to worry about. Bright, witty, no-limits Sadie, who seems to have slammed the lever down on her own self destruct mechanism, and who is going to need correcting in no uncertain terms.
Leave Rigel on Amazon!
Leave Rigel on Smashwords!
(Leaving Rigel will also be available on Kobo, Nook and the Apple store, however it will take a couple of weeks or so for them to become available in those locations.)
DD's Review:
Thanks to DD for leaving this lovely review on Amazon:
Don't let the title fool you! All the characters we have come to love in these series are here to stay! Do they all get a typical happy ever after? Well, let me put it this way. There's nothing typical about Loki's stories. But let me assure you, she wraps things up nicely in this sweet and romantic tale. I tend to get carried away and accidentally spoil things so I will keep this short.
I will just say this book contains some brilliant and witty dialog and some very heartwarming (yet never mushy) moments. It's not that easy to find romance with witty and strong heroines and it's even harder to find that in spanky stories. Yet that's exactly what Loki Renard delivers once more. Not only that, but the ending proves something I wish were more common in romance: Sadie doesn't settle for less than she deserves and she doesn't mistake anxiety and danger for passion. She might be a brat but she is definitely a very wise woman.